19-26,05, 2016
Theatre Academy, University of the Arts Helsinki, Finland
PREMIERE 19.5
OTHER PERFORMANCES 21.5 & 26.5
Working group
Diana Soria, concept, performance, space design, video
Alejandro Montes de Oca, sound design
Anniina Veijalainen, ligth design
Video documentation and sound by Katarzyna Miron, editing by Diana Soria
Edition and layout of ASHES publication by Diana Soria. Print run of 150
SCREENING SELECTION "NEW WORLD VIOLENCE REMAINS"
video performance from Latino América Fri 20.5 & Tue 24.5
DOCUMENTARY "La Omisión: El caso de Julio César Mondragón"
(The Omission: The Case Of Julio César Mondragón)by Andrés Landero Quiroz. Wed 25.5
I have struggled fiercely throughout my work with the intention to open up in the Finnish context and beyond a narration of facts, what has happened on the night and dawn of the 26-27th of September 2014 in Iguala, México. Confronted with the impossibility of transmitting the specific event, as it is not an isolated event that should be thought as "something that happened in a far away place" or a "solved case because some facts are known" (based on the official set up and discourse), I understood I had to open it up to something that belongs to the violent history of Latin America, remaining unsurprisingly little known.
Because knowing is something much deeper that requires much more effort than acknowledging listed facts and data, so accessible by media information, I refuse to give a clear description from the Ayotzinapa event or of any other event, and I would rather drift together with the audience throughout different voices and ways of approaching something that is happening over and over again in different locations, into the unknown truth.
He batallado ferozmente en mi trabajo con la intención de abrir en el contexto Finlandés y más allá de una narración de hechos lo ocurrido en la noche y madrugada del 26 y 27 de Septiembre de 2014 en Iguala, México. Confrontada con la imposibilidad de transmitir un evento específico, el cual no es un evento aislado que debiera pensarse como "algo que pasó en un lugar lejano" o como "un caso resuelto por que se conocen algunos hechos" (basado en los discursos oficiales). Entendí que tenía que abrir los acontecimientos a la larga historia de violencia de Latinoamérica, sobre la cual en términos generales,  se conoce y habla poco.
Por que saber es algo mucho más profundo y que requiere mucho más esfuerzo que la aceptación de determinados hechos y datos, accesibles y manipulados por las diferentes fuentes, me niego a dar una descripción clara del acontecimiento de Ayotzinapa o de cualquier otro acontecimiento. Decido entonces hacer una pieza que se mueva con el público entre distintas voces y formas de acercarse a algo que ha pasado una y otra vez en diferentes lugares y tiempos, dentro de la verdad oculta.
ASHES
PREMIERE 19.5.2016
Assistance by Rosamaría Bolom
Photo credits Antti Ahonen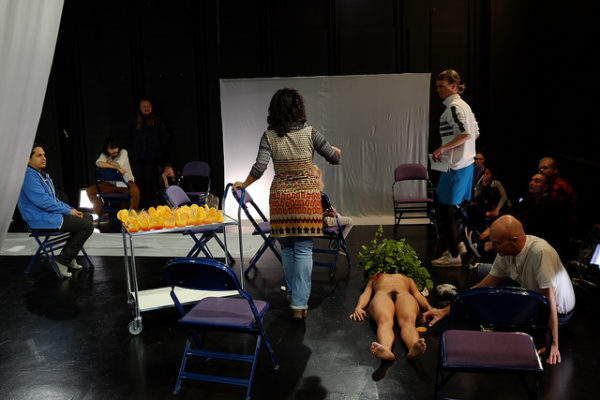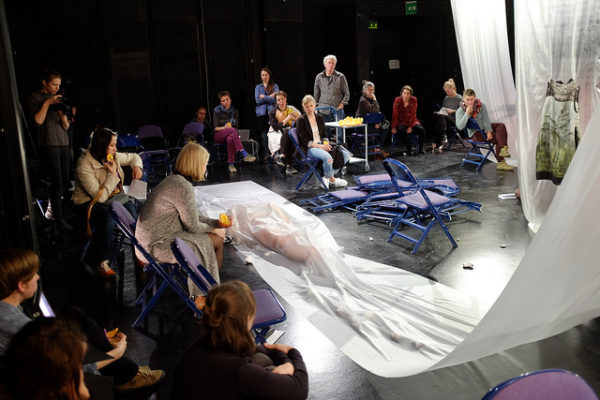 "There is something underneath, something lacking substantiality but which, paradoxically is possessed: The Truth"
"Hay algo por debajo, algo que carece de sustancialidad pero que, paradójicamente, se posee: La Verdad"
In the beginning of April 2016 I launched an Open Call for video/performance from Latino America to be shown in Helsinki as part of my MA master work. With the help of Ignacio Pérez Pérez, I launched the call in different platforms and was happily surprised to see the wide response the call generated.
The intention of this call was to open the privileged space of Theater Academy to other views, (his)stories and voices from Latin America, looking forward to contextualize the process of my work and the present performance, the resulting constellation of works goes by the name of  NEW WORLD :VIOLENCE REMAINS

A principios de Abril 2016 lancé la convocatoria junto con la ayuda de Ignacio Pérez Pérez para mostrar video performance de Latinoamérica en Helsinki como parte de mi tesis de maestría. La convocatoria se difundió en distintas plataformas y fue una grata sorpresa recibir la amplia respuesta que la convocatoria generó.
La intención de esta convocatoria era abrir el espacio de la Academia de Teatro de la Universidad de las Artes Helsinki a otros pintos de vista, historias y voces de Latinoamérica, buscando contextualizar el proceso de mi investigación de maestría así como del performance ASHES. La constelación resultante lleva el nombre de NEW WORLD: VIOLENCE REMAINS (Nuevo Mundo: La Violencia Permanece)